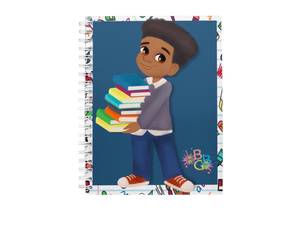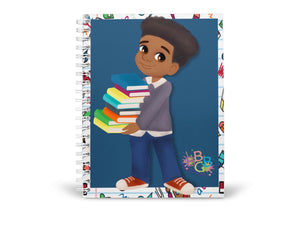 Highlights and Specifications:
1- Subject notebook
Perforated pages
Binding Type: White Coil
Paper Rule: Wide
Cover Type: Glossy Flexible Cover
Material: Paper
Paper Size: 8.5" x 11"

This adorable 1-subject spiral notebook from our Brown Boy Brainy™ Collection is perfect to write down your genius ideas and notes! With 70 sheets (140 total writing pages) perforated wide-ruled sheets, you can jot down quick notes, complete homework, doddle, and more!



Two Thumbs Up!😊
The illustrations on the notebooks are absolutely beautiful! I love to see our children represented! These are excellent stocking stuffers!😍👍🏽
Great product
My son was over-the-moon as he told his teacher that the notebook had him on the cover. He was so excited that he wouldn't let class proceed until she acknowledged it. What an awesome product that shows representation. We'll definitely purchase again.
Greatly needed
These notebooks bring a twinkle to the kids eyes