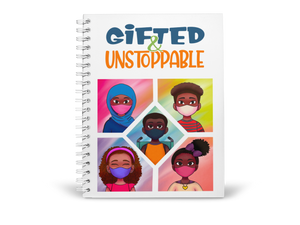 This adorable Gifted & Unstoppable 1-subject spiral notebook is perfect to write down your genius ideas and notes! With 70 sheets (140 total writing pages) perforated wide-ruled sheets, you can jot down quick notes, complete homework, doddle, and more!
Highlights and Specifications:
1-subject notebook
perforated pages
Binding Type: White Coil
Paper Rule: Wide
Cover Type: Glossy Flexible Cover
Material: Paper
Notebook Size: 8" x 10.5"
Means so much that my God children and see books that look like them
My Favorite Books
The books are wonderful for children of color. They can identify with these books. Very happy these books are here for them.
Thank You so much
Adorable
Not only are these notebooks adorable, they send a very powerful message to our youth (really every brown person young and old). I will definitely purchase more.