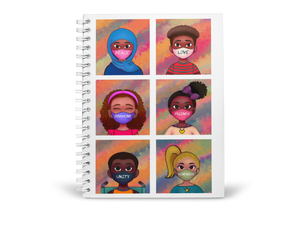 This adorable "We Are One" 1-subject spiral notebook is perfect to write down your genius ideas and notes! With 70 sheets (140 total writing pages) perforated wide-ruled sheets, you can jot down quick notes, complete homework, doddle, and more!
Highlights and Specifications:
1-subject notebook
perforated pages
Binding Type: White Coil
Paper Rule: Wide
Cover Type: Glossy Flexible Cover
Material: Paper
Notebook Size: 8" x 10.5"
It was great!!!
Would love to buy from this group again.
Blackness is Perfect
I can't wait to use them with my student this year.
Fantastic Customer Service!
Thanks for sending out not only one other notebook, but two, when I was not looking for a replacement at all. I soooooooooo appreciate the call! That really meant a lot!
Reunion Gifts ❤️
I was finally able to travel after 18 months to see my family in Michigan. All of my great nieces and great nephews received a gift bag from us which included the BGBB notebook. They loved it!
Outstanding
Loved Image on notebooks. My granddaughter will these and me, when school begins again. Thank youuu!